show-on-size-normal
show-on-size-xlarge
show-on-size-large
show-on-size-xlarge__tablecell
show-on-size-large__tablecell
show-on-size-tab-land
show-on-size-port-tab
show-on-size-small-port-tab
show-on-size-land-phone
size
size2
Analytics and Reporting
Thorough reporting for Administrators, Affiliates and Advertisers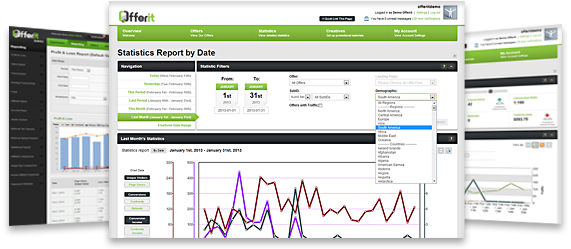 With our extensive, real-time reporting, you and your affiliates and advertisers will always know how your network is performing to the second, no matter how large your network is or grows to become. Know that you own all information that your network generates, so you can easily grab your data anywhere and at any time.
Extensive Administrator Reports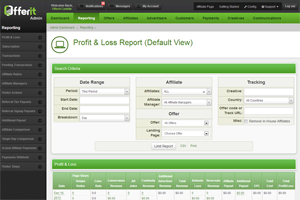 Administrator Profit & Loss
Numbers don't lie. When you want the facts about your network's performance, Offerit gets you these numbers. Offerit excels at reporting and provides you with an abundance of reports at your convenience:
Profit and Loss Report: This report gives you an engaging graph or informative table (whichever you prefer) of your offers' total profit and loss. You have the ability to narrow down these statistics to the individual offer, affiliate, and date.
Conversion Report: Claw deeper into the numbers and you will get an in-depth report of every customer's transaction. Specific dollar figures about the customer's purchases are organized cleanly and simply for analysis.
Graphical Affiliate Comparison: You want to compare how all of your affiliates are doing. Maybe a particular super affiliate is doing extremely well, and you want to know who this special affiliate is. Offerit displays colorful charts for you to easily break down the statistics of your affiliates.
Fraud Report: We all know that fraud attempts are unavoidable, and Offerit helps you fight back. You have access to a complete fraud report powered by a robust fraud detection system in Offerit.
The data within many of the reports can be broken down in numerous ways to facilitate data analysis. For a detailed list of our reports, you can review the following article.
On top of these reports, Offerit gives you the power to extract all this data into the popular CSV dump or printer ready formats.
Precise Affiliate and Advertiser Reports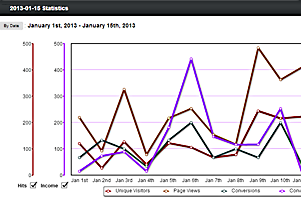 Affiliate and Advertiser Report Graphs
Your Affiliates and Advertisers want to know how they're performing, and how much traffic they're sending and converting for your offers. Offerit gives detailed reports just for affiliates:
Overview of Statistics: Pie charts, line graphs, bar graphs! Tables, RSS feeds, XML dumps! So many ways your affiliates can grab their most important statistics. Affiliates can go further and see specific data broken down by subID, offer, date, and more!
Affiliate Referrals Report: Offerit allows affiliates to refer other affiliates to your network, driving even more traffic to your offers. An easy way to track who and how many affiliates were referred can be found in the referral report which includes when the affiliate joined, the tier of the affiliate, the campaign, and commission.
Real Time Reporting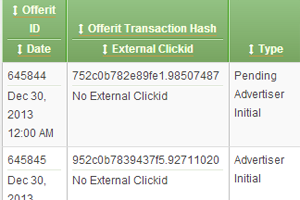 Up to the second stats
Offer data will be available to you and your affiliates the second they are reported to your installation. This is because Offerit gives you real-time statistics with absolutely no delay. This ensures that you, your affiliates, and your advertisers know that your system is up and running at all times.
All Features:
More About Offerit