show-on-size-normal
show-on-size-xlarge
show-on-size-large
show-on-size-xlarge__tablecell
show-on-size-large__tablecell
show-on-size-tab-land
show-on-size-port-tab
show-on-size-small-port-tab
show-on-size-land-phone
size
size2
Administrators and Employees
Multiple account levels to define employee access
Affiliate access level controls are a very useful tool for your network. If you want to give access to your own employees, managers, or even accountants, the process is easy and accounts are simple to manage. You can provide specific access and assign roles to your affiliates using the powerful permission system of Offerit.
Account Levels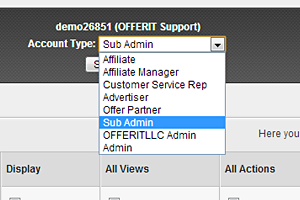 Affiliate Access Levels
The Affiliate Access Permissions page allows you to edit an affiliate's Account Type, which is preset permission levels created for to fit your network's needs. There are multiple different account types, all with varying permissions:
Affiliate: Specifies that the account is a standard level. Any new Affiliate that signs up will be at this level unless changed by an admin. This account does not have any additional permissions.
Affiliate Manager: Assigned to manage affiliates and will have access to the Affiliates Admin.
Customer Service Rep: Responsible for managing customer service of your membership sites. Offerit gives these accounts access to the Customers Admin.
Advertiser: An Advertiser is allowed to create offers in your network that your affiliates can promote. Therefore, advertisers have access to the Offers Admin.
Offer Partner: If you have a partner in managing offers, you can easily assign an affiliate to be one. Offer partners typically share revenues and get extra statistics due to their status.
Sub Admin: Has limited administrative access and can only view and perform actions on certain admin areas in your program.
Admin: Administrator accounts have full administrative access in your program, and can view and edit whatever they choose. You can also restrict admin access to certain IPs through the "Security" section in the Configuration Admin.
OFFERITLLC Admin: Similar to the admin, but can only be logged in from IP addresses we have already specified in the Configuration Admin. This is special place for us in case you need support and we need access.
Special Administration Access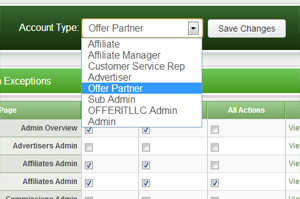 Offerit Temp Image
Beyond the account levels mentioned above, you can also set special permissions, granting or removing access to different components of your admin area. If you have a director or copywriter who only needs to manage creatives, you can make them Sub Admin, but only allow them to review the Creative Admin and nothing else.
Additional Features to Note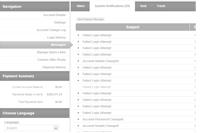 Offerit Temp Image
Affiliate Override: An affiliate has an issue, and you need to help them. Step into their shoes and look from the eyes of your affiliate. This allows you to troubleshoot any issues the affiliate may be having as well as help them get started or make changes.
Subscription Management: View and manage subscriptions associated with your continuity based offers.
Communications: Quickly send news items, updates, and notifications to everyone in your network! Setting them up quickly and effortlessly from the Communications Admin.
In-house Accounts: Designate particular affiliate accounts to be in-house accounts to distinguish who works for you! You can easily prevent building payments for your in-house accounts and filter statistics in your reports to not include them.
Review and Approve: Mark and review affiliate accounts to check if they have all their required documents, if they need to be approved before signing up, or even keep an eye on every single transaction referred in the Affiliate Admin Settings.
Unlimited Admin/Employee Accounts: You may create as many accounts as needed for administrators and employees of your network.
Admin Logging: Logging of all admin actions provides a safe and secure way to monitor actions by employees and contractors working with your network.
All Features:
More About Offerit