show-on-size-normal
show-on-size-xlarge
show-on-size-large
show-on-size-xlarge__tablecell
show-on-size-large__tablecell
show-on-size-tab-land
show-on-size-port-tab
show-on-size-small-port-tab
show-on-size-land-phone
size
size2
Complete Branding Control
Customize your look and feel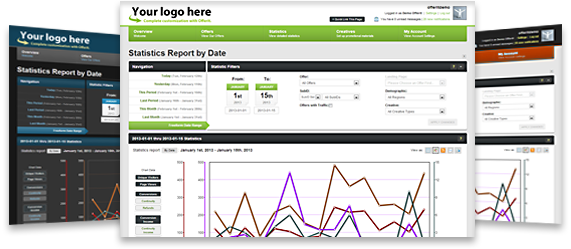 Offerit has been developed to help your business grow and prosper using our tools. We ensure that these tools fit into your own company branding by allowing you to use your own URLs, logos, colors, and themes.
CSS Theme Builder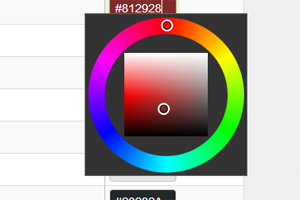 Using the CSS Theme Builder
The Offerit design is set up to ensure your company branding is portrayed throughout your network. Using our simple CSS Theme Builder, you will be able to customize:
Color Themes: Create and save multiple color themes, seen by Affiliates and Advertisers using your Network
Header Logo: Upload and display your own logo on every Affiliate, Advertiser, and signup page.
Your Own Tracking Domains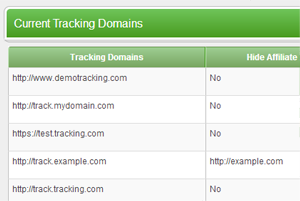 Setting up your tracking domains
When signing up, you select your own Offerit subdomain (i.e.: "demo" in demo.offerit.com). This domain is used by Affiliates to promote your offers, and is used throughout the tracking process of an offer.
If the subdomain name you select during signup does not fit into every specific marketing plan you offer, you can easily set up an unlimited amount of additional tracking domains. This way, you can be sure that the tracking domain used for your offers fit your needs.
Fully Templatable HIDE BEFORE GOING LIVE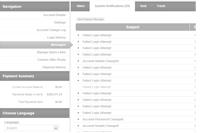 Offerit Temp Image
If the theme builder is not custom enough for your network, you have the ability to completely template Offerit.
Multilingual / Multiple Currency Support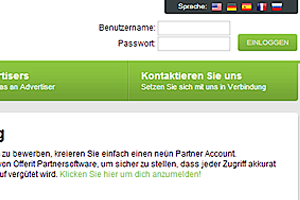 Multilingual Example: Russian, English, French
Offerit incorporates multiple languages, allowing your network to be used world-wide. You also have the option to override specific phrases with your own text, allowing for true localization.
Support for multiple currencies further assists you in working with international affiliates and advertisers.
Other features to note:
Direct Join Form Linking: You have the option to directly link to or embed our affiliate and advertiser join forms for use with your own external page designs.
Email Customization: You will be able to customize any email being sent out to Affiliates, Advertisers, and Customers using HTML and Smarty.
All Features:
More About Offerit