show-on-size-normal
show-on-size-xlarge
show-on-size-large
show-on-size-xlarge__tablecell
show-on-size-large__tablecell
show-on-size-tab-land
show-on-size-port-tab
show-on-size-small-port-tab
show-on-size-land-phone
size
size2
Mailing and Messaging
Communication is crucial: stay in constant contact with your affiliates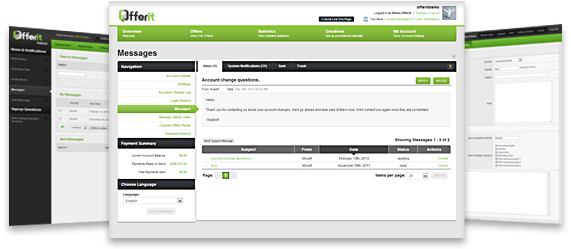 A hands-on network provides better service and generates more conversions! Offerit's powerful mailing and messaging system allows you to easily communicate with all of your affiliates, advertisers, and customers based on any number of criteria.
Fully Integrated Mailer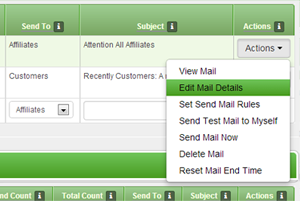 Administration Mailer List
Stay in touch with your users quickly and easily using the included mass mailer feature.
Target your audience: Target Affiliates, Advertisers, and even customers with material and information
No Limit: Create and send an unlimited number of email campaigns
HTML and Text formats: Emails can be sent in both HTML and plain text. This ensures that accounts receiving your email will be able to view your message.
Repeated Campaign Pushes: Emails can be sent one-time, or you can set up recurring emails to be sent at specified intervals. Never miss an opportunity to keep in touch!
Easy to Design: Create any design and share real time offer details using our SMARTY and HTML based templating system.
Robust Rules System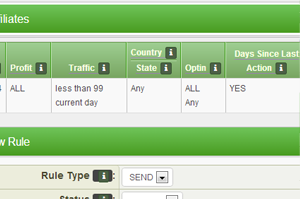 Email Campaign Rules
Using our detailed rule system, you can decide who will receive your emails within your network.
Affiliates or Customers: Target Affiliates, Advertisers, and even customers with material and information
Send Only Once: When this is set, Offerit will send the email to an affiliate or customer only one time
Opt In: Affiliates and Customers can Opt In to receiving messages from you. Your rules will adhere to that setting
Start / End Dates: Allow a marketing campaign to run over a few hours or over a few months. Running a mailer over time is useful when you want to send out messages to affiliates or customers when they meet specific targeting requirements. (see below)
Target Affiliates By:

Sending to specific affiliates only, based on their username
The commission total they have earned over time
The amount of traffic that has come through over time
How long they have been an active/disabled/banned Affiliate

Target Customers By:

Sending to customers that signed up for one offer
How long it has been since they signed up
Their continuity, or how many times a repeated sale has come through.
Internal Affiliate Messaging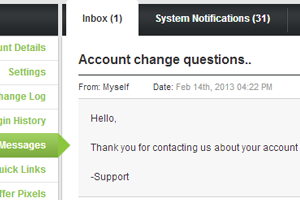 Affiliate Messaging - Inbox
Keep your affiliates informed using your program's messaging and notification system. Leave no one behind, and easily bring the latest news to all your affiliates. You can also easily support your affiliates if they have any questions.
Affiliate News: Keep your affiliates updated with an advanced news delivery system built directly into your affiliate network.
Customizable News Sections: Create as many news sections as you need. You can create a news section for general network updates, new offers, etc.
Affiliate Messaging: Communicate with your affiliates privately within your affiliate network. Internal communications avoid issues such as spam filters typically encountered with email.
System Notifications: System Notifications are sent to affiliates, advertisers, and administrators, notifying them of critical events and information.
Internal Affiliate Support System: Manage Affiliate support issues directly within your affiliate network.
All Features:
More About Offerit